Coatings: The Importance of Combatting and Protecting Against Corrosion
March 16, 2023
What is corrosion?
Corrosion is the gradual deterioration of materials by a chemical reaction from environmental elements. Metallic corrosion occurs when most or all of the atoms on the same structure oxidize, thus damaging the entire surface. Corrosion reduces the structural integrity of infrastructure. This can lead to general corrosion or localized corrosion that bares catastrophic results.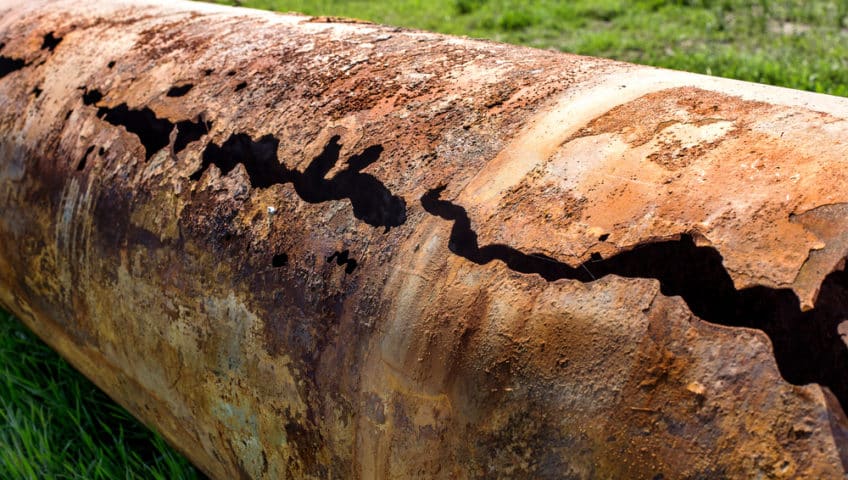 A study by AMPP, (formerly NACE International) estimates the global cost of corrosion to be $2.5 trillion. By implementing appropriate corrosion management practices, an estimated 30% of the costs associated with the electro and physicochemical deterioration of infrastructure and assets can be saved. One of the best tools to fight corrosion is meticulously designed, installed, and maintained protective coating systems, which is an investment that saves governments and asset owners money and helps protect humans and our environment.
Coatings refer to any mixture of film-forming materials and pigments, solvents, and other additives that when applied to a surface and cured or dried, can provide a film that is protective against environmental corrosion. Coatings can also maintain the integrity of a stored/transported product (water, oil, food and beverage). Read more.
It's not practical to simply replace a bridge before it fails or water towers when they spring leaks. Waiting on corrosion has been proven time and again to result in adverse consequences. From amusement park rides to the bridges we cross, manufactured materials will degrade to their stable and original forms, known as nature's reverse engineering.
Why are coatings important?
Structural integrity/protection – Corrosion degrades materials on a molecular level. Without proper coatings, a steel or concrete structure can become compromised.
Long-term cost saving – By implementing appropriate corrosion management practices, an estimated 30% of the costs associated with the electro and physicochemical deterioration of infrastructure and assets can be saved. Most protective coating manufacturers have a 1-to-5-year material warranty. Proper surface preparation, environmental conditions, mixing/application procedures, and qualified inspectors can extend the coating or lining system to its maximum service life. The longer an asset stays in service, the more profitable it becomes via a reduction of downtime for maintenance and rework.
Environmental, health, and safety impact – Drinking water can become compromised if the coating or lining requirements in potable water storage tanks are not met. Copper contamination from leaching caused by corrosion can cause gastrointestinal problems in the short term and damage the liver and kidneys over time.
S&ME Tank Maintenance Program
Our team can properly prepare, design, and implement best practices to mitigate corrosion. An extra layer of Quality Assurance and Quality Control provided by S&ME's AMPP-certified professionals plays an integral role here. And we have developed an outstanding reputation from our work with Departments of Transportation, the DOD, and Local Municipalities with our experience working on potable water tanks.
Our tank maintenance program provides the following:
Annual tank inspections
Tank washout every three years as recommended by AWWA (American Water Works Association)
Pre-Bid tank assessment and evaluation
Written specification for tank upgrade and coating recommendation
On-site coating application observation and testing
Dry Film Thickness Readings, a Nondestructive Tale of Preventing Destruction
S&ME also adds an extra set of eyes to observe and document how coatings materials are being mixed and applied. Improperly applied tank coatings drain budgets, have an adverse impact on health, reduce the service life of a tank, and can turn your water brown from rust. With proper inspection, these risks are significantly reduced.
Why is proper surface preparation important?
Proper surface preparation is paramount. In fact, 75-80% of failures are a direct result of poor surface preparation. Surfaces can be prepared by hand and power tool cleaning, chemical etching, or abrasive blasting to create a profile for mechanical adhesion.
Proper surface preparation:
Cleans the surface of contaminants that may adversely affect the material cure
Removes dust that acts as a bonding barrier
Provides a depth-specific anchor profile for mechanical adhesion
Promotes overall adhesion value
90% of all concrete coating failure claims involve some form of moisture-related issue
Sources of Moisture:
Concrete water of convenience
Relative Humidity & Dew point
Rain
Plumbing
Distinct body of water
Coatings Projects
Governor Mario Cuomo Bridge (formerly the Tappan Zee Bridge) – South Nyack, New York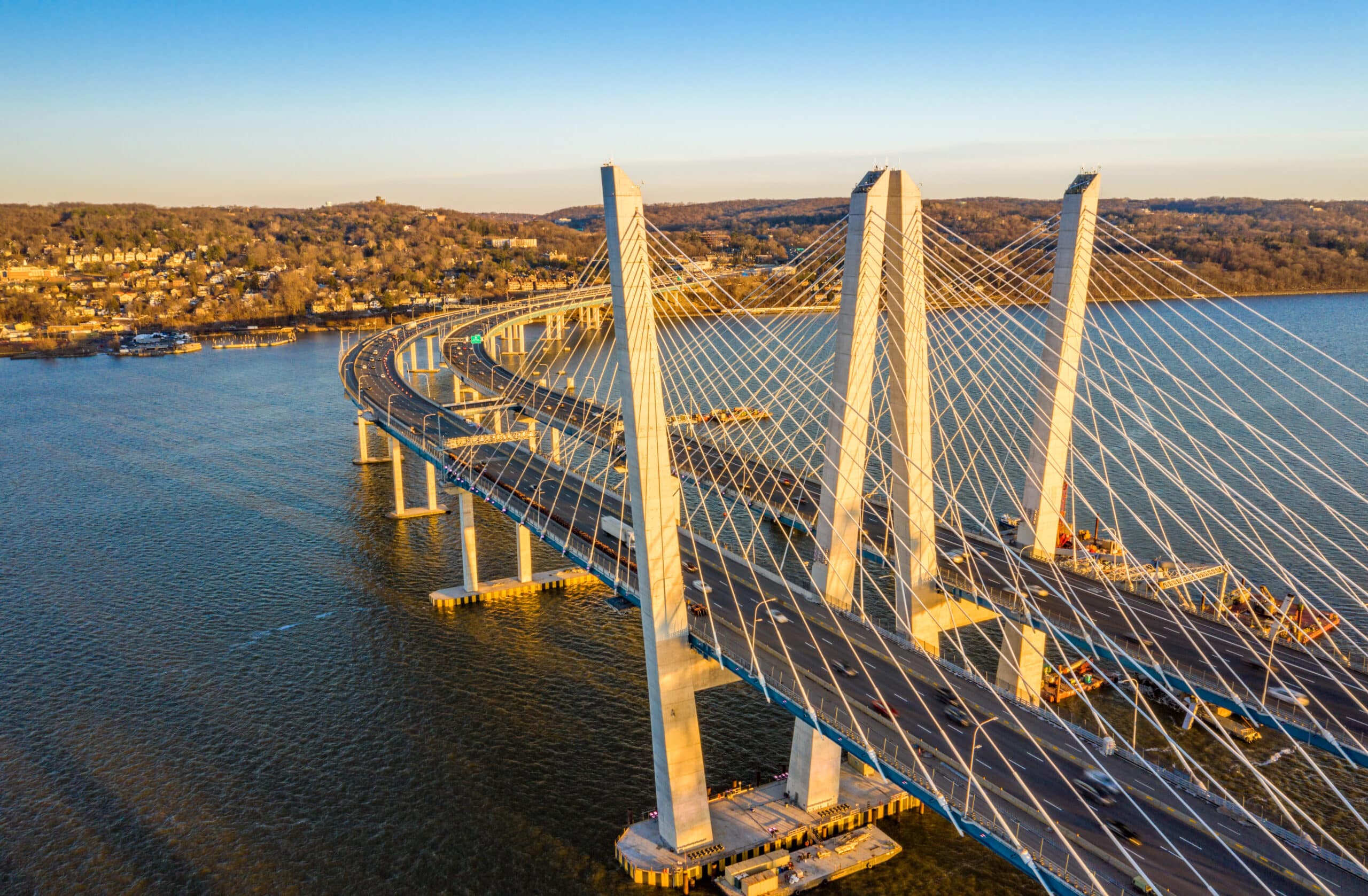 This project included removal of the existing structure and construction of a new $4 billion bridge structure across the Hudson River. S&ME was retained by HNTB Corporation to perform periodic welding and coating application inspection, audited QA (3rd party) and QC (Shop) reports on behalf of the Tappan Zee commission and NYDOT requirements, and reviewed the shipping schedule. The QA work was conducted every 2 weeks for 4 years.
This project received an American Council of Engineering Companies (ACEC) Engineering Excellence Award.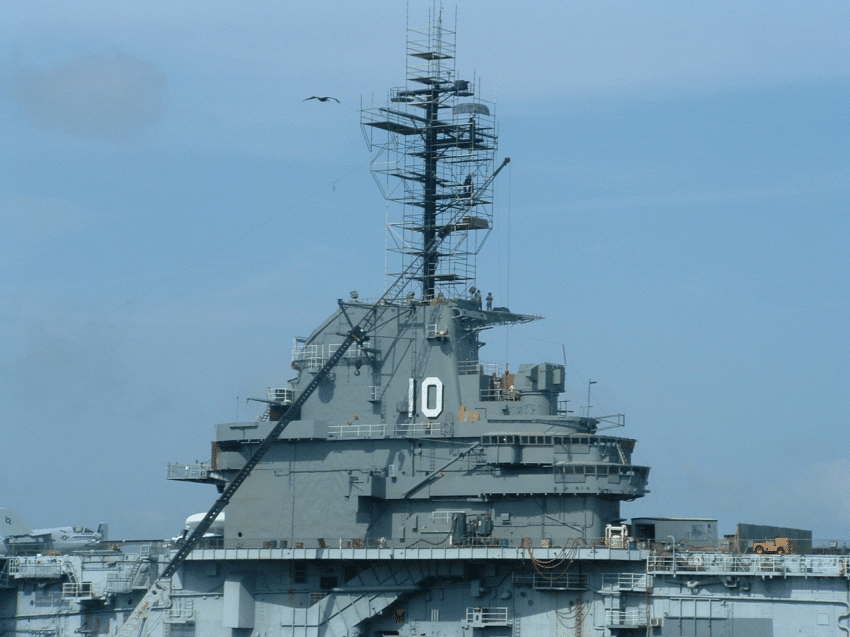 S&ME performed an evaluation of the existing coatings to determine why there was a failure in past re-coat applications on the USS Yorktown. Testing by our team revealed significant levels of lead in the existing coatings, which had been applied multiple times since the ship's construction in 1943.
The assessment and testing performed on the exterior of the ship revealed that previous coatings did not have adequate adhesion due to the lack of surface preparation, and the thickness of the existing coatings was causing inter-coating breakdown. The study recommended that all existing coatings 20 to 30 millimeters thick would require removal prior to a new application. The challenges presented by Yorktown were to remove its lead coatings in the midst of high tourist season while it was also immovable from its sensitive marine environment.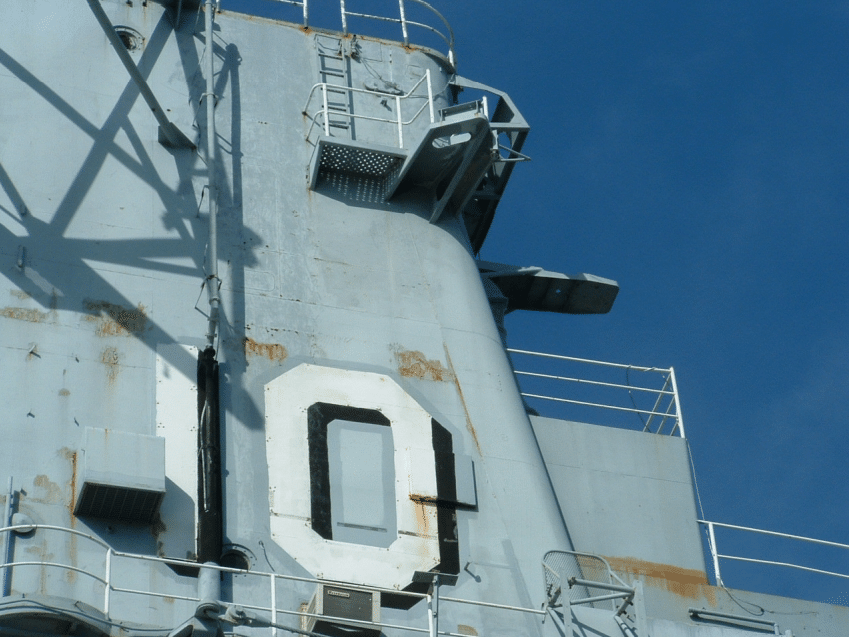 To meet these challenges, S&ME designed a complete negative pressure containment with air filtration and blast media recycling requirements to keep the emissions from the work area at zero. With attention to detail and a rarely-used remediation design to bring the Yorktown back to full glory, S&ME saluted a hero.
Raleigh/Durham International Airport Taxiway Bridge Re-Coat – Morrisville, NC
A coating assessment was performed and technical specification prepared in Construction Specification Institute (CSI) format for Owner authorized improvements for the RDU Airport Taxiway Bridge. The specification addressed surface preparation referencing SSPC standards, removal of existing containing coatings and associated containment requirements to protect adjacent traffic, and coating application.
Full time monitoring of surface preparation and coating application was performed. This included testing of blast media, blast equipment air supply cleanliness, surface cleanliness, blast profile measurements, monitor ambient air conditions, observation of mixing procedure, application process, recoat process, measurement of dry film thickness of each coat, and visual inspection. All inspections were performed by an S&ME Level I Coating Technician under the direction of a AMPP (formally NACE) Certified Senior Coating Inspector.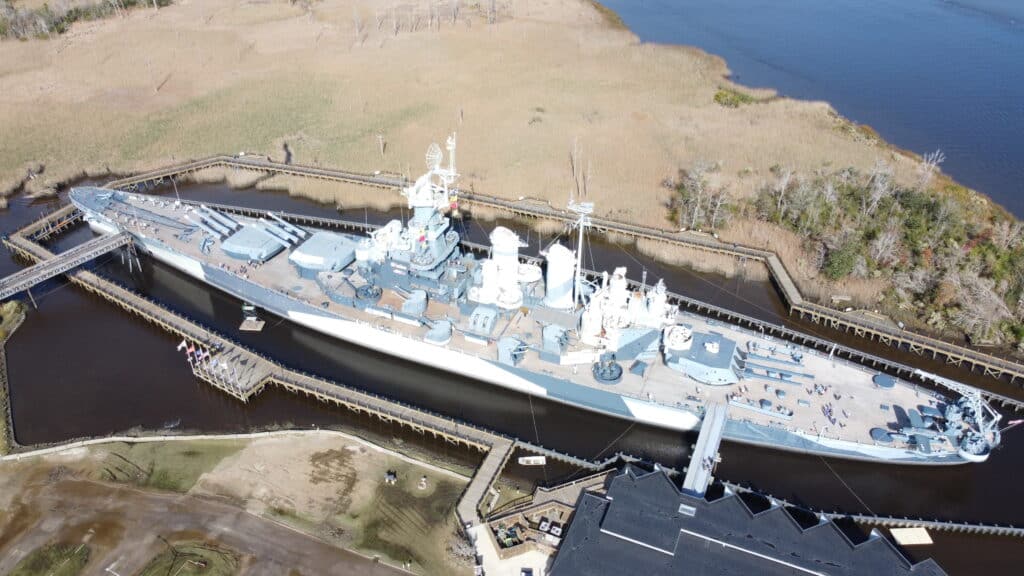 To support refurbishing efforts with the USS NC Battleship, S&ME worked with the design team, Battleship partners, and the North Carolina Department of Natural and Cultural Resources (NCDNCR). Work included design and construction of a cofferdam surrounding the ship, construction of a new memorial walkway that surrounds the ship, and then the use of the cofferdam to lower the water around the ship to replace the hull. The last portion of the project was removal of the mast and coating services to properly refurbish with new paint.
Contact Us
Our AMPP (formally NACE) certified senior professionals reference International Concrete Repair Institute (ICRI) and Society for Protective Coating (SSPC) standards. The team is based in Greensboro, NC and Duluth, GA and offers coating services that cover the range from water tanks to aircraft carriers across our footprint and internationally. We operate on coating application observations, coating forensic studies, or holistic coating management programs within the water, wastewater, heavy industry, and transportation markets.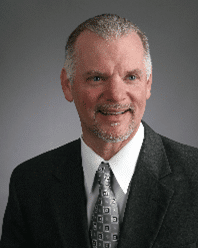 For more information on coating services, please contact Coatings Project Manager, Tim Greene at tgreene@smeinc.com.