Cade Museum for Creativity and Invention Named Project of the Year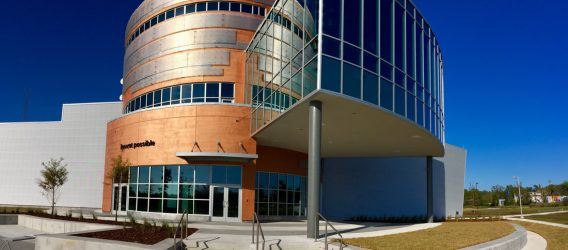 November 05, 2018
The Cade Museum of Creativity and Invention was named 2018 Best Project of the Year by ENR Southeast magazine, in recognition of the complexities and sheer beauty of the structure. Located in Gainesville, Florida, the museum is named for Dr. James Robert Cade, a Medical School Professor at the University of Florida and better known as the inventor of Gatorade.
Complexity in design, construction, and site defines the Cade Museum. The architectural design is influenced by the Fibonacci series, a mathematical sequence that explains spiral patterns found in nature. The exquisite design is matched with the museum's brilliant mission …to transform communities by inspiring and equipping future inventors, entrepreneurs, and visionaries.
S&ME is privileged to be counted in the design team as the project's Landscape Architect. Our design was inspired by nature and connections, and translated into a series of sustainable solutions that included a green roof, rain gardens, and a stormwater fountain. Native plantings abound in the museum landscape. S&ME's plan connects the museum with other facilities in this once brownfield site using regional trails and a lakefront promenade. Read more and view pictures of the project here.