Raleigh Crossing at 301 Hillsborough Street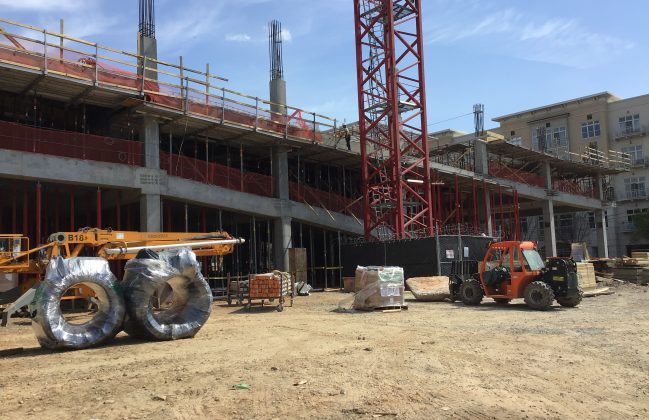 S&ME is providing geotechnical and environmental engineering services for a three-tower project, named Raleigh Crossing, being developed by the Fallon Company in the heart of downtown Raleigh.  Located at the intersection of Raleigh's thriving downtown districts, the project, aptly named Raleigh Crossing, is strategically positioned to become a landmark mixed-use destination.
The first phase of the development, 301 Hillsborough Street, is a 20-story office building with a striking architectural design featuring 280,000 square feet of prime office space, an expansive amenity level, wide pedestrian-friendly sidewalks, street-level retail, and an inviting double-height lobby. A six-story parking garage is planned above the street level, and over the parking level, approximately twelve floors of office space are planned as part of an eastern tower.  Thirteen floors of residential or hotel space are planned as part of a western tower (approximately 20 stories).  At full build-out, Raleigh Crossing will include 18,000 square feet of retail, a 165-room hotel, and 135 apartments, in addition to the office tower.
Site development for the project was especially challenging due to remnant underground debris, structures, foundations, and contamination from historical uses at the site, as early as 1896.
The tower structure is constructed with reinforced concrete frames and shear walls with post-tensioned concrete slabs.  Deep foundations necessary to support the soaring tower include a combination of shallow spread-footings, and large-diameter continuous flight augers (CFAs) extended to depths greater than 90 feet below ground surface into partially weathered rock.
S&ME's services have included:
Geotechnical Exploration
Foundation Design Recommendations
Geophysical Surveying
Environmental Soil and Groundwater Sampling
Brownfields Consulting
Construction Part-Time Environmental Testing Services
S&ME analyzed environmental liabilities and assisted The Fallon Company to negotiate regulatory cleanup standards.  Our team added significant value by negotiating a Brownfield Agreement with the North Carolina Department of Environmental Quality (DEQ) which ensures redevelopment in a manner safe for future occupants while providing environmental liability protection, flexibility in development activities, and security for future property transfers.