Unexploded Ordnance (UXO): What is the Impact?
October 27, 2020
Unexploded Ordnance (UXO)
Unexploded Ordnance (UXO) is an explosive device such as a bomb, shell, grenade, land mine, etc. that failed to function correctly and still pose a risk of detonation.     
Deadly UXO from the Revolutionary, Civil War, World War II, and even modern-day munitions are found throughout the United States, especially in the southeast and coastline. UXO is nearly impossible to track by the military, and much is still undiscovered near historical battlefields, in recycling yards, recently closed military bases, and washed ashore with each storm.   
Examples
In 2003, a construction crew in Charleston, SC, encountered a civil war military munition while digging up a cobblestone driveway. A Civil War re-enactor recognized it as a Parrott shell. The black powder-filled projectile was about eight inches long and three inches in diameter. The local bomb squad responded and adequately disposed of the projectile.

In 2004, strong winds and heavy rain from Hurricane Jeanne exposed an unexploded 10ft rocket in a Florida Residence driveway. Upon further investigation, responding emergency services discovered three additional unexploded rockets on the property.

In 2007 while on a Scout outing at a park on a former military installation in Oklahoma, a boy digging for crystals broke a glass vial causing his eyes to water and his throat to burn.

  

Following a response to the site, the military identified the vial as part of a Chemical Agent Identification Set or CAIS kit used for chemical training in the 1950s and '60s. Ultimately, 162 intact CAIS vials, several broken vials, and several bomblets were recovered.
UXO hazards in the US are estimated to involve over 10 million acres of land at over 1,400 different sites, with cleanup costs estimated at over one trillion dollars, according to the US Army Corps of Engineers. It costs approximately $1,000 to demolish a single UXO on site. Other costs include surveying and mapping, removing vegetation from the site, transportation, and personnel to manually detect UXOs with location devices. Searching for UXOs is tedious work, and often 100 holes are dug for every 1 UXO found.
What to Do If You Think You Came Across UXO?
There is little standardization of warning signage posted near areas with known UXO, and there are many sites that are not marked. The best thing to always do is not disturb the items you find.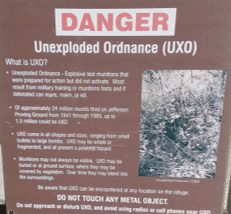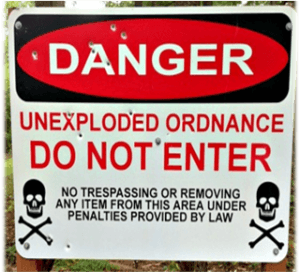 If you think you are in an area where there may be UXO, remember the 3R's:
Recognize

: Recognize when you have encountered a munition. If you believe an item is UXO, treat it as a UXO until proven otherwise, it's not worth the risk to ignore it.

Retreat

: Do not approach, touch, move, or disturb the item. If possible, mark the location and carefully leave the area the way you entered to a point at least 100 yards away.

Report: 

Call 911 immediately, notify local emergency services of what you saw and where you saw it then remain a safe distance away until emergency services respond.
S&ME UXO Services
S&ME's Environmental Business Unit partners with ISSI, a veteran-owned full-service explosive and munitions response company. Our team can rapidly deploy, and all hold a varying skill set flexibility from training to standby support and removal remediation response.
Our services include:
Gradiometric Down Hole Surveys

Safety Escort for Anomaly and UXO/MEC Avoidance

UXO/MEC Site Clearance and Remediation

Chemical Warfare Material (CWM) and HAZMAT Handling

UXO Awareness Safety Training
Dennis Wheeler, Senior UXO Supervisor (SUXOSO) at S&ME, holds 20+ years of experience with UXO. He coordinates all on-site munitions response and clearance while ensuring compliance is attained with approved site plans.
"Why should UXO matter to you? According to the Department of Defense, millions of acres of land in the US may contain UXO, Discarded Military Munitions, and Munitions Constituents, which makes for a large safety issue. If you think you may have come across UXO, treat it as such."
Contact Us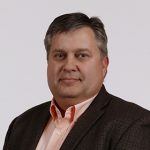 For more information on UXO services, please contact Environmental Client Development Leader, Chuck Black.