Technician Tuesday: Get to Know Patrick McSwain
July 06, 2021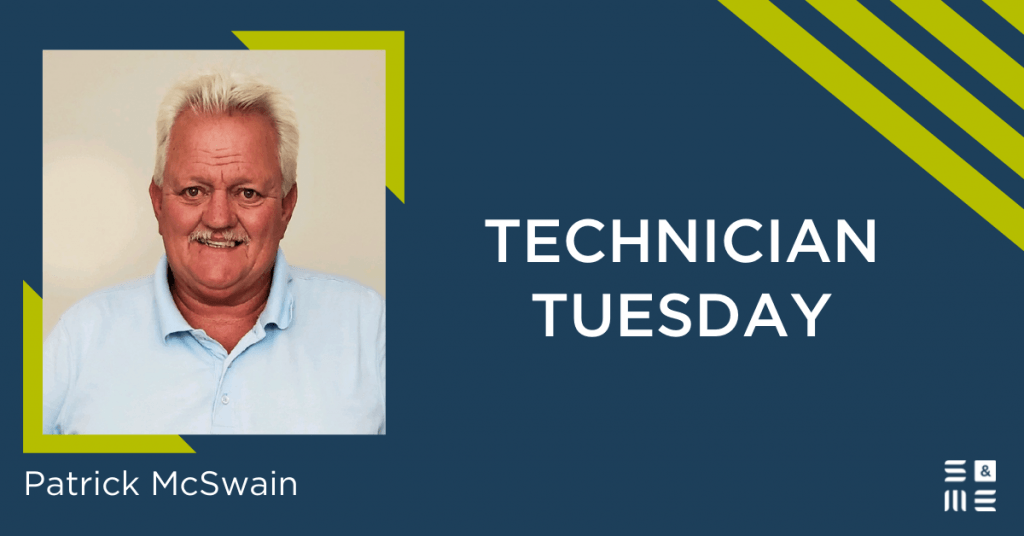 Patrick McSwain is a Senior Construction Services Technician in our Construction Services Business Unit located in Spartanburg, SC. Patrick recently celebrated 23 years at S&ME. Having previous experience driving a mixer truck for a concrete company and selling other materials, Patrick knew this role was a good fit for him. Over the past two decades, he has enjoyed being outside and the new challenges his career has brought.
We asked Patrick what a typical day looks like for him?
"While every day is different, overall, I test various materials and perform inspections on school sites for plumbing, mechanical, and building construction. It is never the same thing, and I am never bored. Now, most of my work is inspecting school facilities, and this is an ongoing learning process for me, which keeps my job interesting."
We asked Patrick what his favorite part of his job is.
"I'm blessed to work with some of the same contractors when I started. I have made great friendships and built a strong reputation with knowledge of what it takes to successfully complete a project."
How would you describe working at S&ME?
"In Spartanburg, we are tight-knit and treat each other with respect. This is not a place where you are just a number. You can come here to grow and have a career."
How is S&ME different?
"Our reputation. People know we do a good job. When I mentor younger Technicians, I tell them that their ultimate job is to be a salesperson for S&ME. Everything you do represents the company, and our end goal is to satisfy the client."
You recently celebrated 23 years with the company. Looking back on your time with S&ME, is there a learning lesson you can share?
"I treat everything as a learning experience. It has made me a better Technician. Many things have shaped and impacted me. We work around equipment, and safety is very important. You have to look out for yourself and others."
What is your favorite project?
"My favorite project was the Greenville County Roads Program that I worked on in the early 2000s in Greenville, SC. The project involved rehabilitating roads, repaving roads, road widening, bridgework, inspections, and more. I specifically worked in construction services and soil compaction, rebar, and asphalt testing. There were so many people working on this project. From contractors, engineers to county representatives, and I learned a lot and also had fun."
How have you grown in your time with S&ME?
"The company has helped me tremendously and supported me when I want to learn and get new certifications. I like a challenge. Right now, I am working on my Chapter 1 credentials. It is a lot of work and a lot to learn but makes me more valuable and allows me to get additional exposure on projects."
What is important to know about this field?
"It is not just about the job; it is about how you sell good and bad information. When we do tests, sometimes we get not such great results. You must communicate effectively. Let the client know as soon as possible when something comes back."
What is your advice for someone looking to enter the industry?
"Know that this job involves long hours, early hours. You must learn patience and self-discipline. I enjoy seeing what I have contributed to being built. The best advice I can give is to get your certifications and show your value to the company. You will interact with many different types of people and learn from that."