Technician Tuesday: Get to Know Chris Thomas
September 15, 2020
Did you know that our field staff makes up 49% of our company?
Our field staff make up a large portion of our employee-owners and are the face of our company on job sites.  They perform on-site field work to meet client needs and are one of our most valuable assets.
Chris Thomas, Engineering Technician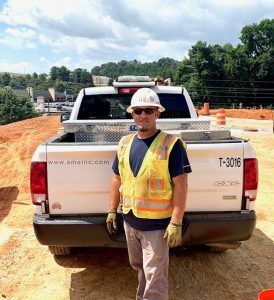 Chris Thomas is an Engineering Technician in our Construction Services Business Unit based in Duluth, GA, who has spent roughly five years at S&ME. Within this service area, we offer construction materials engineering and testing, which provides an owner with confidence that their investment is built in accordance with the project's plans and specifications. Our certified technicians offer a broad suite of construction tests and inspections, all performed under a Quality Program designed to meet rigorous requirements.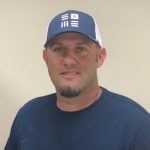 Chris is exceptionally skilled. He holds many certifications that allow evaluation of different facets on a job site, including testing roadways, soils, concrete strength testing, erosion control, reinforcing steel, and has future goals to earn a welding certification. Chris tells us,
"I want to be able to do it all. In addition to our certification incentive program, I'm motivated to gain more certifications because I might have the chance to join bigger and more in-depth projects."
Most recently, during the pandemic, he spent three nights a week after work, studying with a group over Microsoft Teams to receive his Georgia Department of Transportation (GDOT) Roadway Testing Technician (RTT). We are incredibly impressed with his ability and motivation to obtain certifications and grow his skill set regardless of the circumstances.
As a technician, Chris tells us he loves the responsibility that comes with the work in representing our company and enjoys thinking strategically on ways we can potentially save the client money or make a difference on a site and within the larger community.
Day in the Life
We asked Chris what a typical day looks like for him on the job site.
While every day is different, he usually arrives on site by 6 am, or 7 am. Depending on the project, he performs inspections and prepares client reports on many project components, including concrete, erosion, soils, or reinforcing steel. For example, Chris may evaluate soils to prepare for a foundation build, perform concrete pour quality control tests, or observe/evaluate a site post-rain. Chris told us that some days are easier than others; however, working hard is required and a constant with lots of sweat and dirt!
We asked Chris what advice he would share with new technicians:
"Don't get discouraged in the beginning, some days are easier, and some jobs are harder.  Work hard to get in a spot that makes your job better. You can always expand your scope of work through certifications and extra courses. There are opportunities for growth, and if you want to do it, you can."
Projects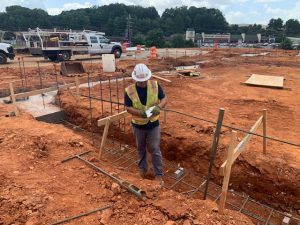 Chris has worked on many different projects, but his favorite so far is the site where he is currently working; An addition to a local High School. On this job, Chris is working with our client, site personnel, and our engineering staff to mitigate unexpected foundation issues encountered during construction. He tells us this is an essential part of the project with lasting impacts on the community. He has also enjoyed working on various logistics center sites and natural gas pipeline projects in the past.
When Chris is away from the job site, he loves spending time with his wife at the ball field, a teacher and softball coach, going out on the boat, camping, and spending time with his family.
Contact Us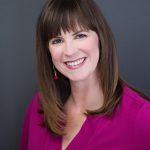 For more information on our Construction Services, please contact Kellie Ford.