S&ME Surcharge Program at the Novo Nordisk DAPI Project Wins Engineering Excellence Award
November 09, 2018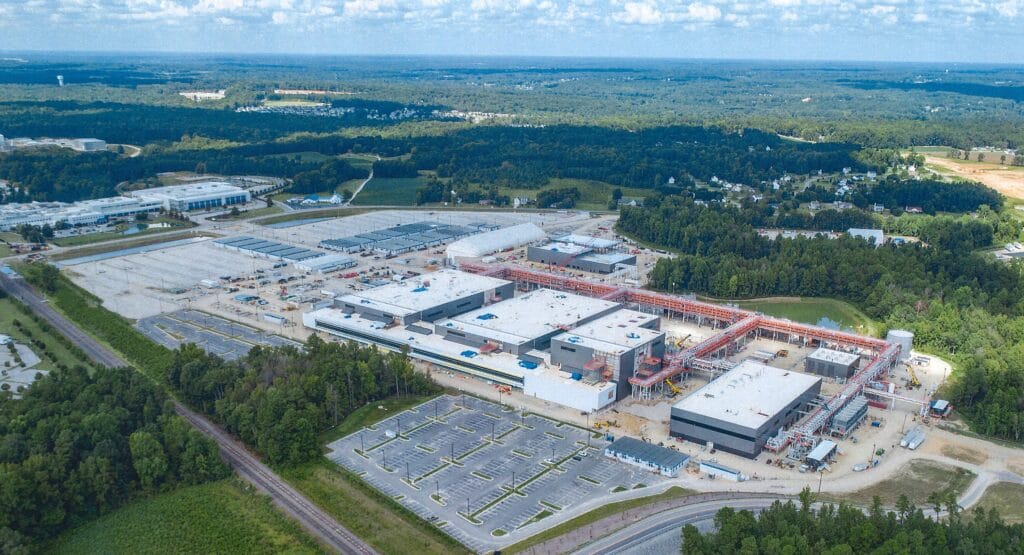 The American Council of Engineering Companies of North Carolina announced their Engineering Excellence Awards for 2019, selecting the S&ME Surcharge Program at the new Novo Nordisk Diabetes Active Pharmaceutical Ingredient (DAPI) Project in Clayton, North Carolina as the as the Grand Conceptor winner in the Studies, Research and Consulting Engineering Services Category.
The new $2 billion facility will produce pharmaceutical ingredients for diabetes medicines, providing modern treatment to people with diabetes in the U.S. and around the world. Once complete, the single largest life sciences facility investment in North Carolina history will measure over 800,000 square feet under roof and have a footprint of 85 acres.  Structures will include a Central Utilities Building (CUB), warehouse, labs and offices, along with manufacturing plants to include the following process activities: fermentation, recovery and purification. Upon completion, the facility is expected to provide approximately 700 jobs to the community.
Fluor is providing engineering design, procurement, construction and construction management services for the project.  S&ME was originally contracted with Fluor to provide third-party materials testing and Special Inspections services to the project. Shortly into that contract, Fluor requested S&ME to also provide geotechnical engineering services to support their design teams in Greenville, South Carolina, and Gliwice, Poland. With S&ME's local presence and knowledge of the area's geology combined with their engagement in the on-going construction, they became a critical connection between the design team and the construction team during this fast-tracked design/build project.
At the time of S&ME's initial engagement, the design called for all of the structures and slabs to be supported on a combination of deep foundations and ground improvement elements. Previous geotechnical recommendations were established before the start of the final design phase of the project. Upon review of site conditions and design documents, S&ME recognized a value engineering opportunity related to foundation and slab support. S&ME along with Fluor initiated an evaluation into surcharge alternatives that would at a minimum allow for slabs and mats to be supported on-grade and also eliminate deep foundations for column support.  A total of eight structures were evaluated.
S&ME performed field exploration, laboratory testing and geotechnical evaluations to develop a surcharge program designed to meet the projects design requirements (including limiting settlements of all structural components of 1 inch total settlement and ½ inch differential settlement) along with meeting the project's tight construction schedule requirements.
Using an extensive surcharge field-monitoring program that incorporated vibrating wire piezometers and borehole magnet extensometers, S&ME was able to evaluate surcharge idle periods, removing all surcharges ahead of schedule.
In the end, S&ME developed and implemented a surcharge program that resulted in the elimination of 4,600 piles, saving the project over $14 million in construction costs. The surcharge program beat the project schedule with measured structure and slab settlements below the strict design requirements.
The American Council of Engineering Companies of North Carolina Engineering Excellence Awards is an annual competition that honors and recognizes engineering and surveying firms for projects which demonstrate the highest degree of achievement, value and ingenuity. Projects entered in the competition must have been executed by a company physically located in North Carolina. The project may be located outside the state, but the work must have been executed in North Carolina. Entries were judged based on overall engineering excellence in each of eleven practice areas. Only work that was performed by the entering firm was judged and scored in accordance with specific guidelines:
Original or innovative application of new or existing techniques – demonstrating a breakthrough in the general knowledge of engineering or unique applications of techniques and materials.
Future value to the engineering profession by defining current thinking or advancing a positive public image of engineering excellence.
Social/economic and sustainable design considerations that produce secondary benefits of value to the community environment.
Complexity of the project in site, location, use of out-of-the-ordinary technology or ingenuity for achievements of the goals.
Exceeding Client and owner needs by engaging them in the overall development of the project, providing a cost-effective solution, meeting the time schedule and the total goal s of the client.