S&ME recognized with ACEC Tennessee Engineering Excellence Award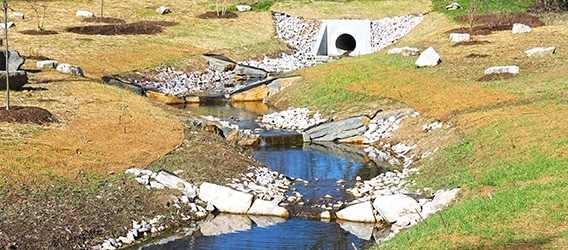 March 16, 2016
The Banks Avenue Regenerative Stream Restoration Project was honored by the American Association of Engineering Companies of Tennessee with an Honors Award at their award ceremony on March 8, 2016. Receiving the award on behalf of S&ME was Ken Barry, PE, Technical Principal for Civil Engineering, located in our Knoxville office.
The City of Knoxville, Tennessee contracted S&ME to provide design and construction period support services for the removal of approximately 200 feet of deteriorated storm drain pipe to daylight a portion of an unnamed tributary to Second Creek. The project also involved restoration of the stream reach to a more natural condition. S&ME was responsible for managing the work of two sub-consultants during the design process. The design process included surveying, hydrologic and hydraulic analysis (including 2-dimensional and continuous simulation modeling), evaluation of alternatives, preparation of civil design documents for the pipe removal and stream restoration, preparation of landscape architecture plans, and assistance with the bidding and construction administration process.
The American Council of Engineering Companies Tennessee Chapter (ACEC TN) holds an annual competition to recognize and honor engineering and surveying firms for projects that demonstrate the highest degree of achievement, value and ingenuity.