S&ME Named to 2016 North Carolina Mid-Market Fast 40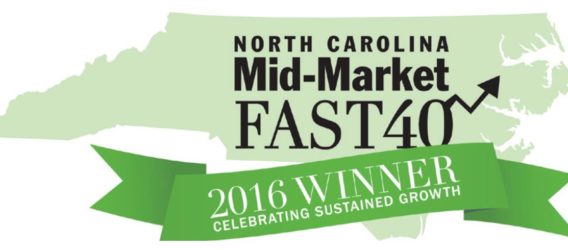 September 26, 2016
Business North Carolina magazine and Cherry Bekaert LLP hosted the 6th annual Mid-Market Fast 40 luncheon on September 20, 2016, honoring North Carolina's top 40 fastest growing mid-size companies. S&ME ranked 26th based on our growth over the past three years in both revenue and employee growth.
Kara Stucky of Cherry Bekaert LLP interviewed Randy Neuhaus, President and CEO of S&ME, for the Award. When asked about major contributors to the success of S&ME, Randy responded,"…that finding the right people and igniting their entrepreneurial spirit is a major contributor to S&ME's growth over the last decade…it is people who will make all the difference. Implementing programs that nurture that spirit and allow those people to be successful is key."
THE NC Fast 40 program honors leading contributors to revenue and employment growth across North Carolina.