Rahman Presents at the Transportation Research Board Conference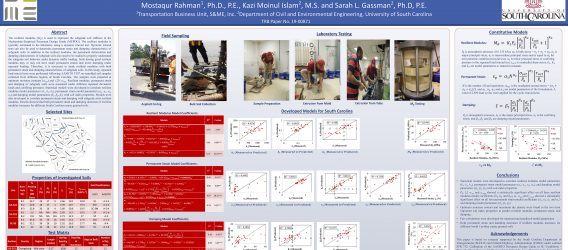 January 11, 2019
Mostaqur Rahman, PhD, PE, Pavement Engineer with S&ME's Transportation Business Unit, will present his technical paper and poster at the 98th Annual Meeting of the Transportation Research Board (TRB) scheduled for January 13-17, 2019 in Washington, DC. His presentation entitled, "Comparative Study of Permanent Strain and Damping Characteristics of Course Grained Subgrade Soils and Resilient Modulus" was coauthored by Kazi Moinul Islam, MS, and Sarah L. Gassman, Ph.D., PE, all three associated with University of South Carolina.
Research for the project was conducted by the University of South Carolina and supported by the South Carolina Department of Transportation and the Federal Highway Administration. The poster presentation associated with Dr. Rahman's paper provides a visual into how permanent deformation and damping can be predicted from resilient modulus values. Statistical correlations of resilient modulus, permanent strain, and damping model parameters with soil index properties for Mechanistic Empirical Pavement Design Guide (MEPDG) local calibration is discussed. To view the paper and poster click on the links.
Dr. Rahman has worked on a variety of projects including pavement evaluation, life cycle cost analysis, AASHTO pavement design, Mechanistic-Empirical (ME) pavement design, pavement structure optimization, nondestructive testing, laboratory evaluation of pavement and subgrade materials. He has background and interest in MEPDG, pavement maintenance and rehabilitation recommendations, pavement condition surveys and assessments, QA/QC testing and inspections, concrete and asphalt pavement mix designs, Cold-in-Place Recycling (CIR) and Full-Depth Reclamation (FDR) mix designs, inertial profiler pavement smoothness measurements (IRI), Falling Weight Deflectometer (FWD) testing, Ground Penetrating Rader (GPR) surveys, pavement surface macrotexture measurements, and pavement coring and subgrade testing. Dr. Rahman is an active member in several technical committees and has presented numerous lectures on MEPDG, subgrade soil resilient modulus, pavement rutting, pavement management etc. He has authored more than twenty (20) significant publications (Journals and Conferences) in various fields of pavement engineering.
TRB is part of The National Academies of Sciences, Engineering & Medicine. TRB's 98th annual meeting convenes 13,000 transportation professionals from around the world providing more than 5,000 presentation covering all transportation modes in over 750 sessions and workshops.