Methylene Chloride – EPA believes it is too dangerous for consumer products
May 30, 2018
by Kenneth R. Warren, CIH, Principal Industrial Hygienist at S&ME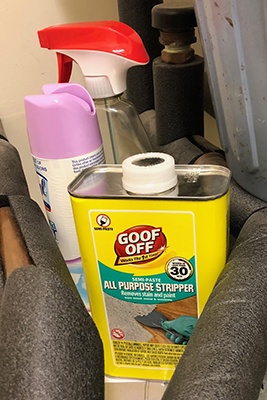 Recent deaths in 2017 attributed to using paint and coating strippers containing methylene chloride has caused the EPA to renew plans for a proposed ban on consumer and commercial products that contain methylene chloride. The EPA moved to  impose this ban in 2017 but appeared to lose momentum following the presidential administration change; however, recent meetings between the EPA and families of two recent victims has cause the EPA to announce that it will proceed with the proposed ban .
Potentially hazardous chemicals can usually be used safely in industry and manufacturing as workers are trained in the use and hazards of chemicals and use engineering controls, such as exhaust ventilation to remove the chemical vapors away from the worker. Respirators, selected by qualified professional may even be used, if controls are not sufficient. This is not the case for public or consumer use of chemicals. Consumers must depend on labeling for direction and warnings for safe use, and chemicals can be dangerous if not used properly. Is labeling enough for the consumer to alleviate the risk? The EPA does not think so.  In fact, because of this risk, the EPA wants to ban the use of methylene chloride, commonly found in paint and coating strippers readily available from most hardware stores.
OSHA describes methylene chloride, also known as dichloromethane, as a volatile, colorless liquid with a chloroform-like odor. It is widely used as an industrial solvent and as a paint, coating and adhesives remover. In fact, methylene chloride was touted as a better ingredient for paint strippers as it is less flammable than many substitutes, however OSHA has reported 17 fatalities between 2000 and 2015, just in refinishing bathtubs with strippers containing methylene chloride. Fatalities can occur in any small poorly ventilated area. While methylene chloride has toxic neurological effects similar or worse than other halogenated organic compounds, it is rather unique. Methylene chloride metabolizes in the body to produce carbon monoxide which can result in asphyxiation in confined or poorly ventilated areas. The EPA reports as part of their risk assessment that short periods of high exposure can result in harm to the central nervous system, or neurotoxicity with the effects including dizziness, incapacitation, and, in some cases, death.
In January 2017, the EPA issued a proposed rule under the Toxic Substances Control Act (TSCA) to ban methylene chloride in paint and coating removal. The proposed rule would prohibit the manufacture, processing, and distribution of methylene chloride for consumer paint and coating removal; prohibit the manufacture, processing, and distribution, and use of methylene chloride for most types of commercial paint and coating removal.
It remains to be seen if the EPA believes accurate labeling is insufficient to protect consumers from the risks associated with methylene chloride and does finalize action to remove this hazardous chemical from retail shelves.
For more information on chemical management or worker exposure evaluation, please reach out to Ken Warren at 843.884.0005 or kwarren@smeinc.com.