FDR Symposium Features Two Presentations by S&ME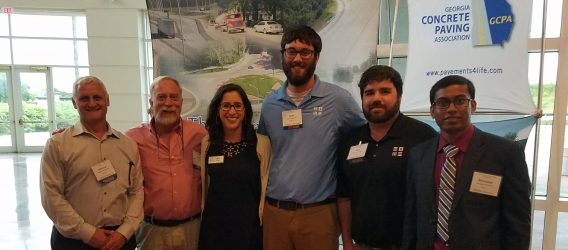 June 21, 2018
The Southeast Cement Promotion Association, in partnership with the Georgia Department of Transportation, presented its annual Full Depth Reclamation (FDR) Symposium on May 15 and 16, 2018 in Macon, Georgia. Representative from other state Departments of Transportation, paving contractors, and engineers gathered to showcase FDR practices and case studies that lead to long lasting, economical and sustainable pavements.
S&ME's Transportation professionals Vladimir Mitchev, P.E. and Mary Rawls, E.I.T presented on the technology and applications of S&ME's pavement testing and evaluation equipment and processes. They mentioned the Falling Weight Deflectometer, Ground Penetrating Radar, Inertial Profiler, and Coring services. Their presentation gave different examples of how the equipment can be used as a package (such as the Taylor and Batesville Road Case Study) and as individual pieces of projects. Some examples of projects include joint testing for load transfer efficiency, rebar cover depth, pavement layer thicknesses, road smoothness, and overlay calculations.
S&ME's Construction Services professionals Chris Arnold, Shea Vincent, P.E., and Tyler Jordan, E.I.T. presented the initial results of an on-going FDR case study for two roadways in Milton, Georgia. The case study assessed pavement component conditions for portions of Batesville Road (a collector road) and Taylor Road (a local road) using data obtained by S&ME from Falling Weight Deflectometer (FWD) testing and vehicle-mounted Ground Penetrating Radar (GPR).
For Batesville Road, S&ME collected GPR data across portions that had been reclaimed via FDR in 2012 and in areas where no repairs had been made. Where FDR was implemented, two sets of FWD data were collected, one in late 2016 and the other in early 2018. The GPR data clearly showed approximate asphalt and base course thicknesses and demonstrated the differences between where repairs had and had not been made. FWD data revealed that the road was holding up well 6 years after repairs had been implemented.
FDR repairs were implemented on portions of Taylor Road in late 2017. S&ME collected GPR and FWD data in areas of planned repairs and in areas outside of planned repairs both before and after the FDR was implemented. The FWD data demonstrated significant strength improvement from FDR and indicated accelerated degradation of the pavement and underlying subgrade in areas where FDR was not implemented. Using visual evaluation and review of the FWD data, S&ME assessed that the portions of Taylor Road where no repairs were implemented were in fair condition in 2016 and deteriorated to poor condition in 2018. Based on the data collected, the City of Milton intends to implement FDR on the remainder of Taylor Road in the next 18 months. GPR data further identified the location where FDR repairs had been terminated along each roadway while also collecting data on the existing pavement component thicknesses, should future repairs be planned.
As the case study continues, S&ME intends to collect additional FWD data along these roads in order to assess the viability and durability of the FDR system. The plan is to combine the newer technologies with traditional pavement assessment methods (coring/boring and visual), to provide a more comprehensive evaluation of existing pavement conditions that can be integrated into life-cycle analysis of pavements managed by our clients.