Construction Materials Testing (CMT) and Special Inspections: How to Measure the Quality of Your Anticipated Project
July 22, 2020
Construction materials testing and observation services bridge the gap between design and construction.
What is Construction Materials Testing (CMT)?
Construction Materials Testing (CMT) includes a wide range of tests and observations performed in the laboratory and the field on soils, concrete, masonry, steel, and asphalt during the project construction phase. Construction Materials Testing provides clients with the confidence that their projects are constructed per project plans and specifications, saving money and time.
Construction Materials Testing can include:
Soil sampling and testing
Concrete sampling and testing
Asphalt sampling and testing
Laboratory testing
Non-Destructive Testing of Concrete and Timber
Building Integrity Testing using drones, thermal imaging cameras, and other specialized equipment
What are Special Inspections?
Another form of quality assurance in the project construction phase is Special Inspections, or tests and observations of materials, fabrication, erection, or placement of components and connections critical to the building's structural integrity.
The International Building Code (IBC), developed by the International Code Council (ICC), requires Special Inspections to confirm the building construction resists extreme loading conditions such as earthquakes and high winds.
Special Inspections can include:
Foundation Observations
Reinforcing Steel Observations
Masonry Construction Observations
Structural Steel, Bolting and Welding Observations
Fire Stopping and Fire Proofing Observations
Non-Destructive Testing of Metals (UT, PT, MT and VT)
Concrete Construction Observations
Construction Materials Testing and Special Inspection Featured Projects
S&ME Construction Services capabilities range from visual-manual examination to extensive and specialized evaluations of soil, rock, and construction materials by trained professionals.
On the more comprehensive end, Area Manager, Randy Travis, and his team completed a project in June of 2017, an over four-year assignment on the Louisville Southern Indiana Ohio River Bridge Downtown Crossing.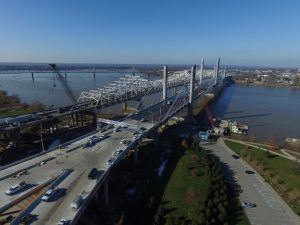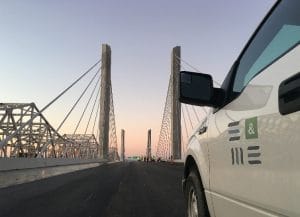 At $1.5 Billion, this was one of the single largest construction projects in the US. The team provided oversight and support of asphalt, soils, aggregate and concrete materials testing, non-destructive testing of bridge piers, bolting, and welding inspections. Additionally, the team provided support to the Kentucky Transportation Cabinet inspection for pre-stress and precast concrete plants at six locations spread across Kentucky and Indiana.
Lab Locations
Our team maintains over 25 laboratories across the eastern US accredited by AASHTO: resource that consists of numerous AASHTO and ASTM International standards to perform in-house construction and geotechnical materials testing tailored to project needs. Our laboratory technicians and professionals maintain certification credentials under the guidance of S&ME's internal quality assurance program and ASTM and AASHTO Quality Standards. Many S&ME laboratories are also validated to perform testing for the US Army Corps of Engineers, based on local and client needs.
Contact Us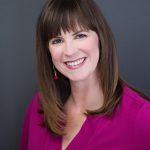 For more information on Construction Materials Testing or Special Inspections, please contact Kellie Ford.