Columbus Upground Reservoir Receives Engineering Innovation Award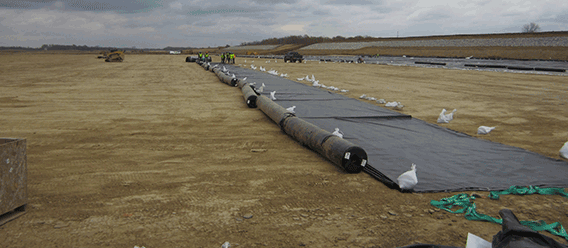 May 16, 2017
The Fabricated Geomembrane Institute (FGI) presented its second annual Fabricated Geomembrane Engineering Innovation Award to Ronald K. Frobel & Associates and S&ME, Inc. for the Columbus Upground Reservoir Project. The award recognizes engineers who have creatively used fabricated geomembranes to successfully meet a client's technical, scheduling and budget requirements.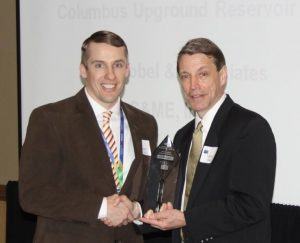 The upground reservoir is the largest geosynthetics lined reservoir in the United States, covering over 850 acres, inclusive of borrow area. More than 37,000,000 square feet of fabricated polypropylene geomembrane together with 37,000,000 square feet of 10-ounce non-woven geotextile were used for the liner system. The reservoir contains 475 fabricated geomembrane panels. Each panel measures approximately 125 feet by 250 feet, with an area of about 31,250 square feet and weighing nearly 6,250 pounds.  To read more on this project click here.
Congratulations to Timothy Van Echo, PE, and Joseph Troxell, PE, the lead engineers for S&ME's role in design and construction and members of the civil engineering design staff in S&ME's Columbus, Ohio location. Accepting the award on behalf of the design team was Jason Ross, PE, also from the Columbus location, who attended the FGI program at ASCE Geo-Frontiers Conference held in Orlando during March.
The FGI is dedicated to advancing the use of fabricated geomembranes through education, research, and technology transfer. The FGI is a consortium of manufacturers, fabricators/installers, designers, regulators, and materials suppliers of fabricated geomembranes.