US 27 Clewiston Corridor Vision Plan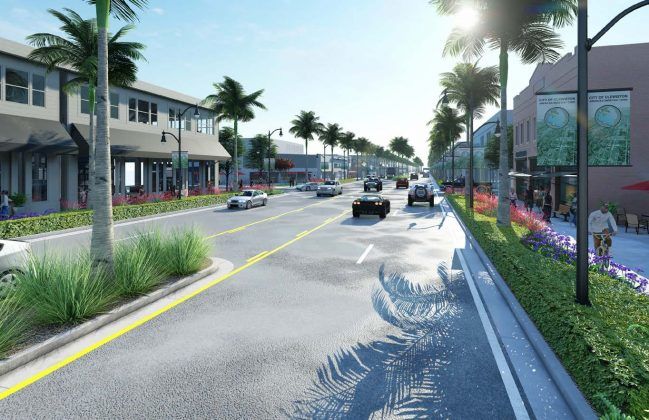 The purpose of the US 27 Clewiston Corridor Vision Plan is to develop an integrated land use and transportation 50-year vision for a 6.5-mile stretch of US 27/SR 80 extending from County Road 720 to the Hendry/ Palm Beach County line through the City of Clewiston.
The City of Clewiston has successfully maintained the area's natural amenities, agricultural activity, and supported new development while maintaining the community's small-town charm for nearly 100 years. Clewiston was planned and built with US 27 crossing it from east to west. The Nolen Plan envisioned the land along the highway as a commercial corridor. As the State of Florida grows, and the role of US 27 in the economy of the state gets stronger, it is important to consider the fate of the City of Clewiston if and when future roadway improvements (widening) are needed. The Airglades Airport expansion has also created more opportunities for growth in the immediate area, adding to the urgency of planning the future of the US 27 corridor. This Corridor Vision Plan looks into that future to devise solutions to those inevitable growing pains.
The preparation of this Corridor Vision Plan included substantial public input. Residents and business owners had an opportunity to express their ideas through online surveys, a walk-about, and public workshops. Based on information provided by the public, as well as technical research and review of existing data and information, the team concluded that the main priorities in the area are to:
Make US 27 safer by reducing the speed of traffic and upgrading the roadway and intersections to accommodate pedestrian and bicycle traffic
Protect the character of the City of Clewiston, especially as it expands to the west.
Study the possibility of establishing an alternative route to reduce the amount of heavy trucks driving through the City
Highlight the presence of the Waterfront and regionally significant L.O.S.T. trail by providing clear access and wayfinding from US 27
Define the city's east and west gateways
Revitalize the city core into a vibrant downtown