Tenoroc Trail Master Plan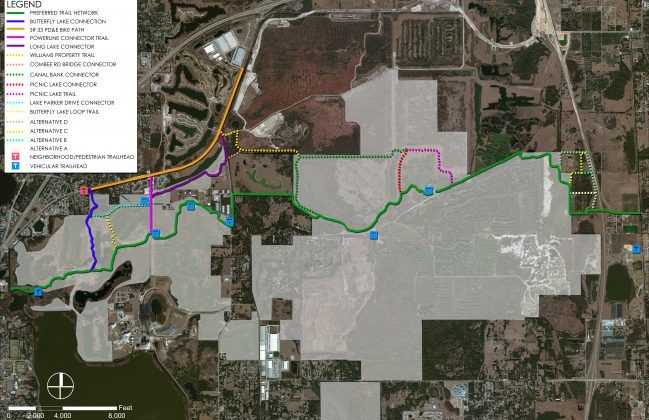 S&ME assisted the City of Lakeland with the master planning of the 10-mile Tenoroc Trail, connecting Auburndale's Lake Myrtle Sports Complex and the General Van Fleet/TECO-Auburndale trails to the City's Northeast Recreation Complex and Lake Parker Park. During the course of a two-day charrette, S&ME worked with city planners, Florida Department of Transportation (FDOT), Florida Fish and Wildlife Conservation Commission (FWC), Polk TPO property owners and other stakeholders to identify the primary and alternate corridors for the 12 ft. paved bicycle, pedestrian trail through the 8,000-acre Tenoroc Fish Management Area, FDOT and county right-of-ways, school board property and city property.
The majority of the trail runs through the FWC-managed Tenoroc Preserve. The Preserve, former site of a Coronet Phosphate rock mine, has been reclaimed for fishing, hiking, passive and shooting uses. The trail meanders around the Preserve's lakes, forested areas, hiking and equestrian trails and takes advantage of the picnic area and fishing area uses for trailheads. Trailheads will bookend the trail at Lake Myrtle Sports Complex and NE Community Park, and a neighborhood convenience store is identified as a trailhead/rest stop along the way.