Carolina Panthers Training Facility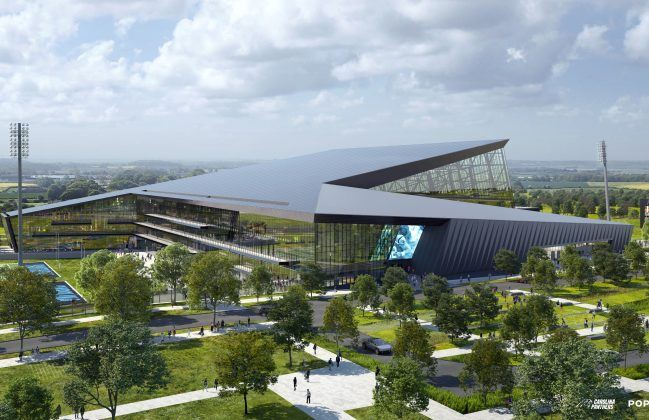 S&ME's involvement with the project began while working with the South Carolina Department of Commerce in early 2019, providing due diligence services for the site for what was then known as "Project Inspector". The project site consisted of a roughly 240-acre parcel of undeveloped land within the southwestern quadrant of the intersection of I-77 and Eden Terrace, in Rock Hill, South Carolina.  Services included:
Preliminary Geotechnical Exploration
Phase I Environmental Site Assessment (ESA)
Cultural Resources
Wetland Delineation
Conservation Easement
Jurisdictional Determination (JD)
Protected Species Assessment
Regulatory Permitting
Economic Impact Assessment
S&ME continued involvement under contracts with LandDesign, Inc., the civil engineer of record and Construction Reinforcement, working as construction manager to the Carolina Panthers. During the design and construction phases, the project evolved into an approximately 232-acre site that will be anchored by the NFL Carolina Panthers football operations and training facility. The headquarters building will be 4 to 7 stories in height with an over 300,000 square foot footprint, supported on drilled shaft deep foundations. An indoor and several outdoor practice fields will be on-site. The overall site will include roadways and infrastructure as well as various stormwater features. In order to facilitate the stormwater features, gabion walls, concrete spillway walls, and an earthen dam will be required.  Roadways across the site cross an existing stream, resulting in bottomless culvert crossings with abutment concrete gravity walls.
Geotechnical services included field exploration programs of SPT borings, CPT and DMT soundings, rock coring, surface shear wave geophysics, and both bulk and undisturbed sampling. Laboratory testing programs included classification and physical testing for consolidation, shear strength parameters, and permeability. Recommendations included IBC site class and seismic design parameters, site-specific response analysis, site preparation, dewatering considerations, excavation considerations (ripping and boulder handling), slope stability analyses, slope stabilization, and protection, retaining wall global stability analyses, seepage analyses, scour analyses, use of on-site soils as structural fill (sand, low and high plasticity silts/clays and rock fill), fill placement and compaction, shallow foundation support, deep ground modifications (stone columns), deep foundation building and sports lighting support (continuous flight augers, drilled shafts micropiles and rock anchors), grade slab support, pavement sections and SCDHEC dam required analyses and reporting.
Construction Materials Testing and Special Inspection services included full-time observation and monitoring during the earth moving of roughly ½-million cubic yards of soil to level the HQ building pad and rough grade the site infrastructure roadways. The main storm drainage and trunk utility lines for sewer and water were also observed. Rock blasting and quantification of boulders, as well as rock and soil fill placement, were monitored and tested. S&ME also performed deep foundation (continuous flight auger, drilled shaft, rock anchor, and micropile) test programs and installation monitoring/inspection, and reinforced concrete testing/inspection. S&ME monitored:
pile load testing activities
390 drilled shafts
86 rock anchors
142 micropiles
S&ME also was selected by SCDOT to provide the Design/Build pursuit phase geotechnical exploration for, followed by CE&I services during construction of, the new interchange off I-77 to access the development.