Technician Tuesday: Get To Know Mark Powers
December 08, 2020
Mark Powers, Senior Metals Technician
Mark Powers is a Senior Metals Technician in our Construction Services Business Unit.
Mark began his 30+ year career in the Navy as a Hull Technician and Steel Worker performing general maintenance on submarines and nuclear reactors. After the first four years, the Navy sent him through welding school while stationed in Cuba, working in the non-destructive testing (NDT) department. NDT is a testing method where properties of a system, materials, or component are evaluated without damage. Mark explains that he had rigorous training, which involved NDT school for six months and welding school for six months. After school, he spent a total of 16 years performing NDT on various sites.
Later, he worked in the oil field for six years, performing rig construction and damage assessment after hurricanes, traveling 11 months out of the year. In response to internal company accidents, Mark was sent to assess the company's entire fleet. He went through master rigging school and performed NDT on every lifting appliance the company operated, which was a two-year duration.
"One thing to note about this line of work is that if you test something, sign off on it being sound, and it is not, you are liable. This does not scare me because of how we assess things is black or white. It is either correct or not. We study the codes and standards and make sure the products or supplies used in manufacturing or construction are built in accordance with the proper standards."
After that, Mark went back into the shipyards as a Quality Assurance (QA) Manager at the Atlantic Marine in Jacksonville. While there, he built a ship for the Navy which was subbed out to the University of Hawaii as an Oceanographic Research Vessel. Later, he also helped build two Carnival cruise liners and an Ocean going tug and barge that delivers fuel oil to our northern states.
Life at S&ME
Mark explains,
"I didn't do much until I joined S&ME. All my previous work was mission-specific. I don't love doing the same thing all the time. S&ME has allowed me to work on so many different projects. I started as a contractor employee here seven years ago and grew from there."

"I met Perry Vezina when I started as a contractor at the power plant build in Wilmington, NC, and he explained to me everything the S&ME team worked on from buildings, bridges, and everything in between, and everywhere they went. He also made me feel like family, even though I was a contractor at the time, and I knew S&ME was a company I wanted to work for; that I could call home. I wanted to work for him and S&ME to be part of that team and family."
We asked Mark, what does a typical day look like for you?
"A project facilitator will have the project schedule a day before, and I will review the specifications for the jobs assigned to me for that day. Every job is different and requires a quick overview of what codes and standards apply to that job. After, I will meet the clients, assess the parts, and deliver good or bad news, whether they are correct or not. Typically, most projects I review are good. Every now and then, I find something wrong. But if wrong, it is important to address and correct it in a timely manner."
Past and Current Projects
At S&ME, Mark has worked on numerous projects, including performing Quality Assurance on the Ocracoke NC Ferry, which will be the first of its kind in North Carolina once complete.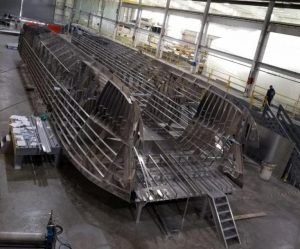 His past and current work include pharmaceutical plants, power plants, new construction, bridges, water pipes, water towers, cell phone towers, and many more.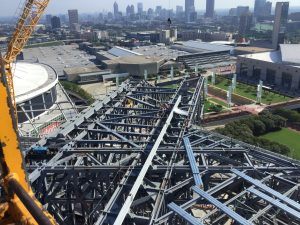 Mark's favorite type of project is marine-specific, working on ships and bridges.
Mark's Advice
How do you get started in this career track?
"There are several different ways. You can apply for an entry-level position at S&ME, and we will give you the hands-on and classroom training as required by the method. This is a great cost-savings option for you and a great way to start. The other way is to take classes with the American Welding Society or the American Society of Nondestructive Testing. However, these options don't give you the on the job experience or on the job training requirements you will need for the certification."
What advice would you give to someone just starting their career?
"If you have a question, don't be afraid to ask it. Even after 30 years of doing this, I still ask questions all the time. Codes, Standards, and job specifications change all the time. New methods of doing things change as well. I have seen technology revolutionize the way I do my job."
Contact Us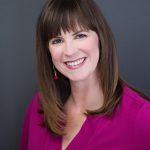 For more information on our Construction Services, please contact Kellie Ford.