S&ME's Cline Receives John R. Browning Young Professional Award
January 30, 2017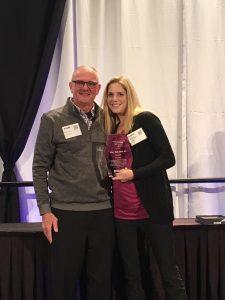 The John R. Browning Young Professional of the Year Award is given to an S&ME employee who exemplifies professionalism, dedication and technical acumen, and who is under 35. For 2017, S&ME management selected Mary Beth Cline, PE, from Environmental Services to receive the award.
Mary Beth Cline, PE, has distinguished herself both inside and outside S&ME. A graduate of Clemson University where she received her degree in Biosystems Engineering, Mary Beth was a member of our inaugural S&ME Leadership Development Class and is a leader in S&ME's Young Professionals Program. Outside S&ME, Mary Beth belongs to numerous civic and professional organizations in Charleston, often holding leadership positions.
Mary Beth's career at S&ME began 11 years ago in the Spartanburg office where she led and coordinated Phase I Environmental Site Assessments. During those early years she also was involved in the Duke Energy Nuclear Station Groundwater Protection projects. In 2009 she received her Professional Engineering license and soon moved to Charleston where she continued to distinguish herself as a technical leader, giving presentations at the S&ME Technical Conference while taking on increasingly responsible project positions. In 2014, Mary Beth was name a Project Manager taking on a leadership role in the Environmental Business Unit. She employs her exceptional skill set to serve the environmental efforts of many high profile projects, such as South Carolina Department of Transportation Port Access Road that will connect Interstate 26 to the proposed High Leatherman Container Terminal on the former Charleston Naval Complex. At the same time, Mary Beth continues her dedication to mentoring younger staff as they too advance in their careers.
Congratulations, Mary Beth!