Meet S&ME's Pavement Technical Experts
October 04, 2022
Pavement Engineering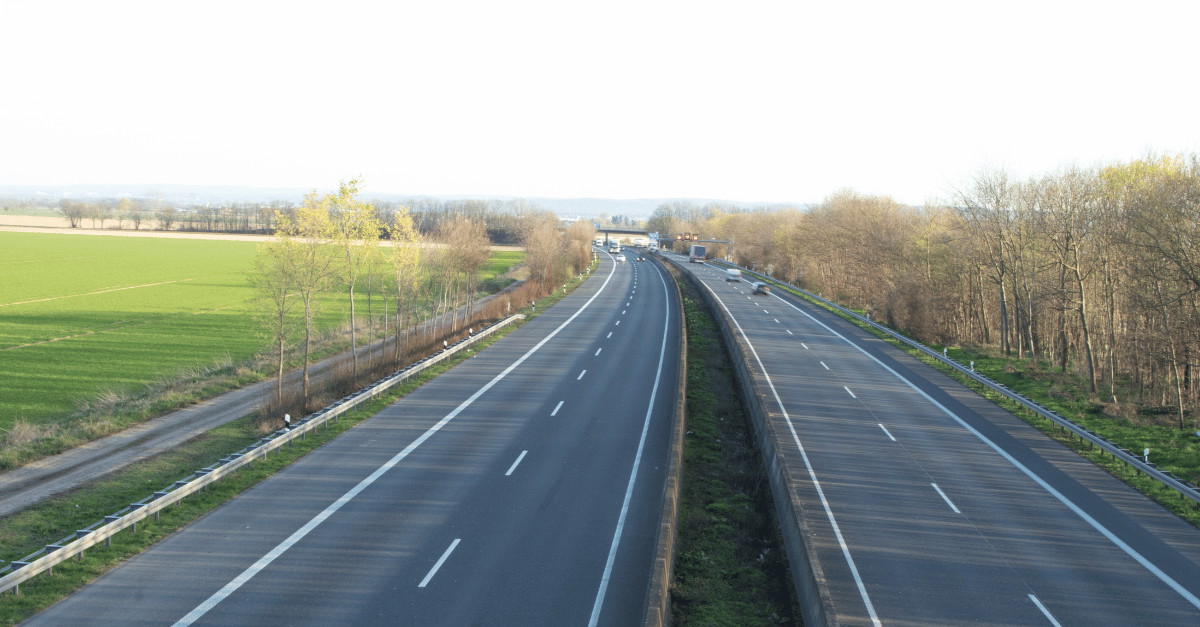 Pavement projects require technical expertise to ensure they function properly. Therefore, pavement engineers design, test, analyze, and manage pavement systems to determine layer thicknesses and material composition required for traffic loads, and review data on existing pavements to assess their deterioration and remaining service life.
S&ME's Pavement Services Group (PSG)

Pavement Engineering has been an S&ME core service since the company's founding 49 years ago, and in 2016, a Pavement Services Group (PSG) was created to focus on owner's pavement needs.
Our PSG serves as a client's sole resource for pavement design, testing, analysis, and management.
Our team operates a comprehensive fleet of pavement testing equipment and, coupled with AASHTO certified laboratory testing capabilities, provides assurance to owners by outlining the full life cycle of pavement needs from material selection to pavement preservation.
The team's design capabilities and expertise encompass:
AASHTO Pavement Design
Mechanistic-Empirical Pavement Design (MEPDG)
Pavement Structure Optimization
Concrete and Asphalt Pavement Mix Designs
Roller-Compacted Concrete Mix Design and Consulting Services
Cold-In-Place Recycling (CIR)
Full-Depth Reclamation (FDR) Mix Design
Consulting Services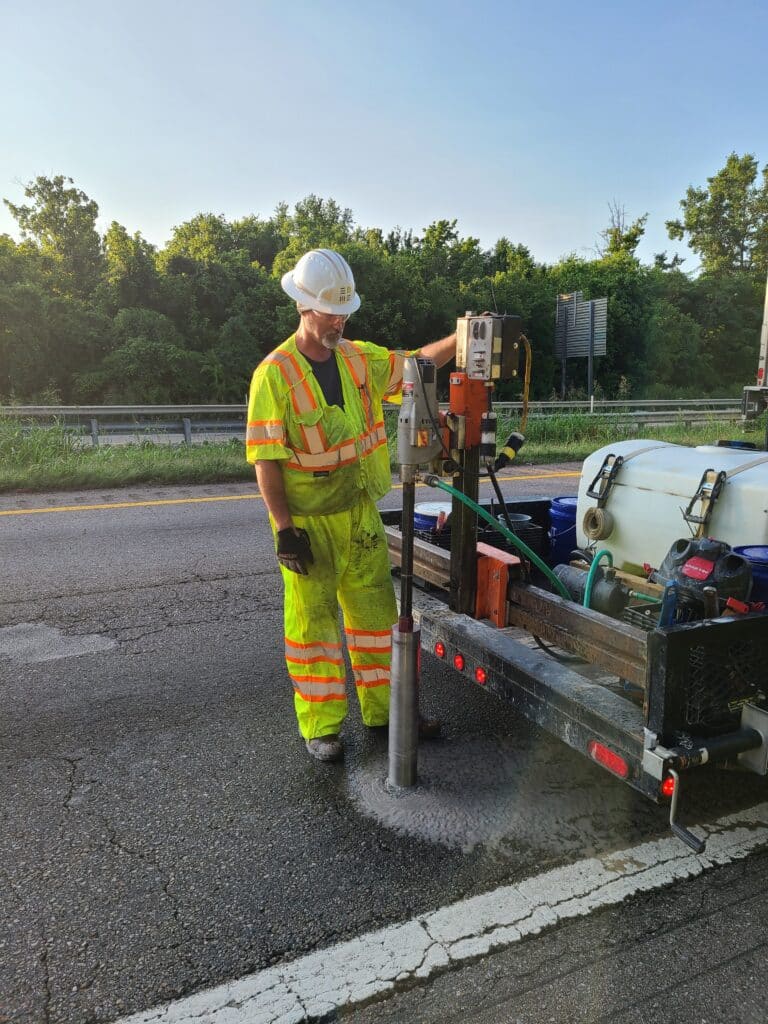 S&ME's in-house pavement testing capabilities include:
Inertial Profiler Pavement Smoothness Measurements (IRI)
Falling Weight Deflectometer (FWD) Testing
Ground Penetrating  Radar (GPR) Surveys
Pavement Surface Macrotexture Measurements
Pavement Coring and Subgrade Testing;   Laboratory Evaluation of Pavement and Subgrade Materials
Friction Testing
The PSG's pavement analysis capabilities include:
Pavement forensics
Pavement maintenance and rehabilitation recommendations
Life-cycle cost analysis
Pavement management includes:
Pavement Condition Index (PCI) Surveys and assessments
Construction QA/QC Testing and Inspection
Meet S&ME's Pavement Service Group
S&ME's Pavement Service Group is staffed with highly technical pavement engineers, who are known nationally for published work on pavement testing, mix design, and pavement performance while residing on numerous national pavement committees. Due to their expertise and involvement, our Pavements Service Group serves as trusted partners and advisors to numerous counties, municipalities, and state Departments of Transportation (DOTs).
Abdalla Al-Rawashdeh, PhD
Regional Practice Leader – Pavement
Tampa, FL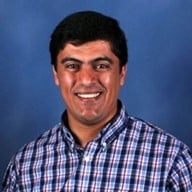 Dr. Abdalla Al-Rawashdeh brings experimental, technical, and analysis skills related to asset condition assessments (roadway and airport pavements, intersections, sidewalk, and bridges), asset maintenance and preservation, implementation of assets management systems (MicroPAVER, StreetSaver, CityWork, and  AgileAssets), and development of asset management plans and pavement preservation/rehabilitation design options. Abdalla has five  years of experience managing 3,400 center line miles of pavement, 3000 miles of sidewalk, and 278 bridges for a large County Government in Florida. His asset management experience in the private and government sectors allows Abdalla to approach challenges with the owner's perspective in mind.
Abdalla has 16 years of experience in roadway maintenance/rehabilitation and safety improvements, pavement design methods, asphalt and concrete mix design and materials, and quality assurance/quality control of flexible and rigid pavement construction. He also has a background in performing field condition surveys related to roadway right-of-way safety improvement, intersection safety improvement, bridges, pavement, and sidewalk condition evaluations (both visual and automated).
Abdalla holds a PhD in Material Science – Civil Engineering (Hot Mix Asphalt and Warm Mix Asphalt ) from Ohio University, a Master of Science degree in Geotechnical and Pavement Design – Civil Engineering from Ohio University, and a Bachelor of Science in Mechatronics (Mechanics of Electronic Systems) Engineering from Jordan University of Science and Technologies. Abdalla is a licensed Professional Engineer in Michigan and Florida.
Rami Chkaiban, PhD
Pavement Engineer
Charlotte, NC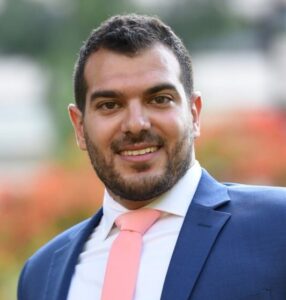 Dr. Rami Chkaiban's expertise involves a focus on research in the transportation engineering field. At S&ME, Rami supports pavement design, testing and conditions survey projects, and provides various pavement failure troubleshooting and treatment recommendations, in addition to research.
Prior to joining S&ME, Rami pursued his PhD in Civil Engineering at the University of Nevada, Reno, while focusing on developing and deploying innovative asphalt pavement technologies. His dissertation entitled "Influence of Balanced Mix Design on Asphalt Mixture Decision Making, Predicted Pavement Performance, Traffic Diversion, and User Costs", converted the laboratory theoretical outcomes to real-life scenarios.
Dr. Chkaiban holds two Master's degrees, one from the US and another from France. In his US Master's work, he worked with the Federal Highway Administration (FHWA) to update the vehicle operating costs model used in the Highway Economic Requirements System and Realcost software. During his Master's work in France, he explored the use of innovative non-destructive techniques in pavement surveying. Rami is also an author of six publications and fifteen presentations and technical reports. He currently serves as Vice Chair of the Newer Members Committee for the Association of Asphalt Pavement Technologists, and is on two standing committees for Transportation Research Board: Standing Committee on Stabilization of Geomaterials and Recycled Materials; and Standing Committee on Asphalt Mixture Evaluation and Performance.
Mostaqur Rahman, PhD
Associate Project Manager – Pavement
Columbia, SC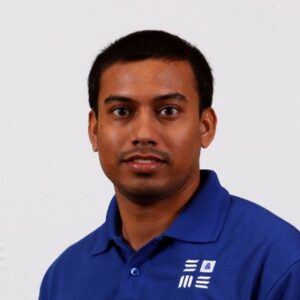 Dr. Mostaqur Rahman's expertise involves both pavement management and design. As an Associate Project Manager, Dr. Rahman is responsible for managing pavement engineering projects which include pavement evaluation and management, pavement maintenance and life cycle cost analysis, rehabilitation recommendations, American Association of State Highway and Transportation Officials (AASHTO) pavement design, Mechanistic-Empirical pavement design, forensic studies of pavement and subgrade soils, and geotechnical engineering research. He is a licensed Professional Engineer in Florida, Georgia, Kentucky, Michigan, North Carolina, South Carolina, Tennessee, and West Virginia.
Prior joining S&ME, Mostaqur completed his PhD in Civil Engineering at the University of South Carolina, where he conducted research on the effects of subgrade soil resilient modulus on pavement rutting using MEPDG. He earned his MS from University of New Mexico, where he developed alternative to Pavement Condition Index and PAVER-based pavement evaluation and system dynamic approaches to pavement maintenance. He has published numerous research papers in renowned journals and conferences, such as Transportation Research Board and Geo-Congress. Mostaqur serves on the Geo-Institute technical committee for Soil Properties and Modeling, and on the Transportation Research Board standing committee, Mechanics and Drainage of Saturated and Unsaturated Geomaterials.
Shivpal Yadav, PhD
Construction Materials Laboratory Manager
Marianna, FL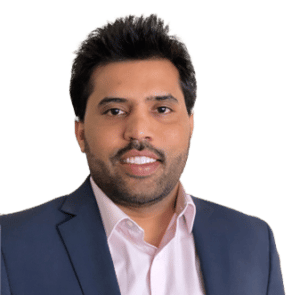 At S&ME, Dr. Yadav coordinates and conducts concrete, aggregate, and soils material testing, reviews test results, and creates formal reports. He also provides training to employees for various material test methods and is responsible for maintaining and calibrating testing equipment.
Shivpal has already made waves in the pavement and transportation industry and his resume contains a long list of accolades and honors. He was the recipient of the Herman J. Hoose Memorial Scholarship Award (2019) by North Carolina Section of the Institute of Transportation Engineers, which is a scholarship awarded to only one student in the State of North Carolina interested in pursuing transportation engineering as their academic career. In 2019 he was also selected as a Forbes Under 30 Scholar and attended the Forbes Under 30 Summit.
Prior to joining S&ME, Shivpal earned his PhD in Civil and Pavement Engineering from North Carolina State University in Raleigh. During his time at NCSU as a PhD student and Postdoctoral Research Scholar, Shivpal worked closely with NCDOT. His research focused on: moisture sensitivity of asphalt mixtures; developing alternative methods for evaluation of moisture sensitivity; and quality control of field asphalt mixtures and compatibility of aggregates and emulsions using Asphalt Compatibility Tester. The outcome of his research was a combined methodology to evaluate moisture damage in asphalt mixtures, which can help in selecting materials that can resist failure against moisture susceptibility and reducing the cost of repair/maintenance making pavement more sustainable. Shivpal also wrote a research proposal with a total budget of US $500,000 in collaboration with his PhD advisor,  which was awarded funding by NCDOT (Award no. RP 2020-15). He earned his MS and BS in Civil Engineering Technology from York University in Toronto, Canada, and Indian Institute of Technology, Varanasi, India, respectively.
Shivpal is an author of three publications and eight presentations and technical reports. He is a member of two Transportation Research Board standing committees: Committee on Production and Use of Asphalt, and Committee on Asphalt Mixture Evaluation and Performance.
Contact Us
For more information on Pavement services, please contact Shannon Sweitzer, PE, CCM, DBIA.