Specialized Environmental and Permitting
S&ME's team of coastal scientists and biologists is dedicated to providing practical guidance for project design and construction balanced with intelligent and considerate management of natural resources. Our team is built on a solid foundation of highly experienced National Environmental Policy Act (NEPA) and Endangered Species Act specialists committed to supporting project goals while recognizing environmental sensitivities and providing competent guidance through the regulatory process typical to coastal areas. With a specific focus on, and experience in the Gulf Coast, we are dedicated to helping clients achieve their goals through a comprehensive knowledge of state and federal regulatory programs with creative and scientific consideration of natural resource concerns unique to the region. Specific staff expertise includes:
Migratory bird surveying and monitoring for compliance with Migratory Bird Treaty Act;
Coordinating necessary state and federal permits and approvals for Gulf Coast projects, including facilitating regulatory evaluations and inter-agency coordination;
Extensive experience writing and managing mid-level EAs to high-level and controversial EIS's for NEPA compliance on coastal projects;
Facilitating simple to complex (terrestrial and aquatic) endangered species consultations with the U. S. Fish and Wildlife Service and the National Marine Fisheries Service; and
Providing oversight of construction activities to monitor and document compliance with regulatory and NEPA conditions or requirements.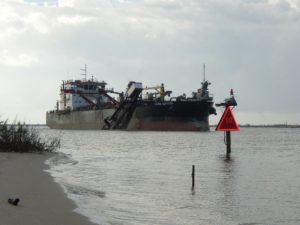 Our experience in the Gulf Coast and specifically with USACE, has resulted in our staff having an understanding of issues unique to coastal efforts requiring extensive USACE coordination and approvals. Ms. Love understands the processes and approvals needed for implementation of efforts with USACE such as:
214 agreements for funding USACE staff
408 reviews and approvals
WRDA 204(f) compliance
WRRDA 1014, 1018, 1020 and other provisions
WIIN 2016 provisions applicable to coastal projects
Third-party NEPA documentation
SMART Planning process